4 Benefits to Choosing Chiropractic as Carpal Tunnel Treatment
4 Benefits to Choosing Chiropractic as Carpal Tunnel Treatment
Written By Integrity Chiropractic Inc on February 6, 2020
---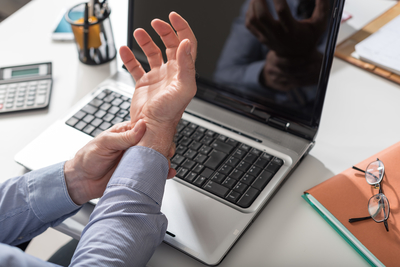 For workers in West Virginia, carpal tunnel is a severe problem.
Did you know that nearly 1 out of 5 workers who develop carpal tunnel will have to leave their jobs within 18 months of a diagnosis? In fact, workers with carpal tunnel lose a median of 27 workdays – more than any other work-related injury aside from fractures.
Don't let a diagnosis cut off your livelihood. Give non-surgical carpal tunnel treatment a shot. It just may be the most important decision you make!
Why Choose Chiropractic for Carpal Tunnel Pain?
If you're suffering from carpal tunnel, chiropractic offers several benefits.
It's a Non-Invasive Alternative to Surgery
Your chiropractic doctor will use the least invasive and most gentle treatment method possible.
Chiropractic is Drug-Free and All-Natural
Your chiropractic doctor will never prescribe dangerous opioids that take the lives of 130 Americans every day and do nothing to treat the source of your pain.
It Focuses on Long-Term Relief
Our doctors at Integrity Chiropractic will develop a well-rounded treatment plan that encourages short-term relief while supporting a long-term pain-free life. Plus, studies show that chiropractic is effective for treating carpal tunnel.
Chiropractic is Often Covered by Insurance and Affordable
Most insurance plans cover some form of chiropractic care. If you're paying out of pocket, chiropractic is often much more affordable than surgery or repeat physician visits.
Comprehensive Carpal Tunnel Treatment in Beckley
Your doctor at Integrity Chiropractic will listen to your symptoms and medical history and take x-rays before developing a customized treatment plan. Depending on your condition, an average treatment plan may include
The goal is to relieve pressure on your wrist joints and nerves to encourage proper mobility and blood flow.
You don't have to live with carpal tunnel or risk losing your job. Schedule a consultation at Integrity Chiropractic in Beckley today to go over your options or call 304-252-3333.

Posted In: Chiropractic Carpal Tunnel Treatment