Got Pain? Get a HydroMassage
Got Pain? Get a HydroMassage
Written By Integrity Chiropractic Inc on May 13, 2021
---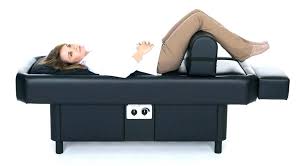 At Integrity Chiropractic in Beckley, we offer two types of massage therapy: manual and hydro. Our licensed manual massage therapists are all trained in a variety of techniques and add their own flair to the tables. And then we have HydroMassage that put you at the pampering end of well-aimed water jets.
Both are great ways to help your body relax and heal. As for choosing between the two, that's up to you and your personal needs. Many people are choosing HydroTherapy because of its shorter session time, its ability to combine heat with massage, and for those that need it, a gentler (yet still effective) touch.
What HydroMassage Therapy Is & How It Works
HydroMassage utilizes a special table with a heated mattress filled with water underneath its surface. You simply lie back, completely clothed, on the table.
Just under the surface is a mattress filled with heated water. A pump propels the warm water towards you through three hydro-jets spinning at nearly 200rpm. A primary wave and a lighter, secondary wave combine to produce a very effective deep tissue massage to all areas of the spine simultaneously.
Due to the combination of the buoyant mattress, heat, and water massage, HydroMassage therapy is able to treat many areas of your body with minimal pressure. Manual massage therapy can treat pain and stiffness with some simple manipulations of the body. HydroMassage therapy is uniquely qualified to provide a rigorous and calming massage that wouldn't be possible on a traditional massage table.
The physiological effects of heat and massage are very complimentary in the treatment of many types of soft tissue injuries and other conditions such as orthopedic, rheumatic, and neurologic disorders as well as certain post-surgical conditions. These two forms of therapy are therefore frequently applied together.
Try Out HydroMassage in Beckley
Dr. Sexton's favorite thing about being a chiropractor is the ability to change lives without the use of drugs or surgery. He has a special interest in sports medicine and is well versed in treating pregnant women and babies. Dr. Short chose chiropractic medicine as a career because of his love for people and his strong belief in chiropractic care and the human body's ability to heal itself.
We use a well-rounded approach in the practice with a goal of achieving a higher quality of life for all of our patients.
Have questions or need to schedule an appointment? Give us a call at (304) 252-3333 or go online and fill out our contact form. We look forward to helping you.

Posted In: Chiropractic Massage Therapy Hydromassage