Natural Chiropractic Therapies for Headaches and Migraines
Natural Chiropractic Therapies for Headaches and Migraines
Written By Integrity Chiropractic Inc on July 29, 2020
---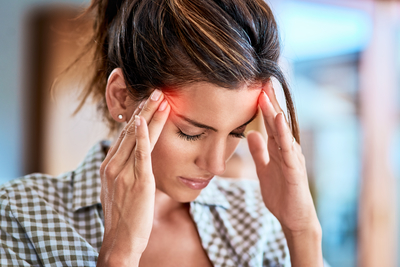 If you suffer from headaches or migraines and are seeking a natural treatment, you're not alone. 50% of Americans currently experience headaches, and 30% of the total population deal with migraines. While they all come in different forms—occasional, frequent, dull, debilitating, etc.—the clarity needed to carry on with your day can be destroyed by one headache.
When a headache or migraine hits, do you take medicine? Deal with the pounding pain and move on? Go to sleep? Chiropractic offers a better alternative for long-lasting migraine and headache treatment.
Why Use a Natural Headache and Migraine Treatment?
Chiropractors are trained the diagnose the underlying cause of your headache or migraine through spinal, muscle, and nervous system treatment. Your chiropractor will perform a comprehensive exam to determine whether your pain is coming from spinal or muscle dysfunction, as well as determine if lifestyle factors like diet and stress are triggering your headaches.
With a chiropractic headache or migraine treatment, you're able to understand the root cause of your pain and receive treatment that's targeted towards your needs.
Chiropractic Migraine and Headache Treatment Options in Beckley
Headaches and migraines are often soft tissue or neurologic problems that originate from the neck. Headache types that can be managed by chiropractic include cervicogenic headaches, migraines, tension headaches, and cluster headaches. Common chiropractic migraine and headache treatment include:
Therapeutic exercises and stretches
Trigger point work and massage
Nutritional and lifestyle advice
Instead of masking symptoms for short-term relief, chiropractic is the only natural and non-invasive therapy that focuses on helping you manage the pain.
Headache and Migraine Prevention Tips
Along with natural chiropractic treatment, your doctor will recommend a few ways you can be proactive about preventing future headaches, including:
Practicing proper posture and ergonomics
Managing stress levels
Completing regular exercise
Maintaining a proper diet
Getting enough sleep
Find Headache and Migraine Relief with Chiropractic
While headaches and migraines are a common issue for people in Beckley, they aren't something you should ignore or simply 'deal with.' Dr. Rocky Sexton, D.C. and Dr. Franklin Short III, D.C., provide a natural headache and migraine chiropractic treatment that targets your triggers for long-term wellness.
Take control of your headaches and migraines by scheduling an appointment with Integrity Chiropractic Inc today.

Posted In: Chiropractic Headache Treatment Migraine Treatment