Hurting In Your Back, Knees, or Hips? Get Your Feet Balanced
Hurting In Your Back, Knees, or Hips? Get Your Feet Balanced
Written By Integrity Chiropractic Inc on June 14, 2021
---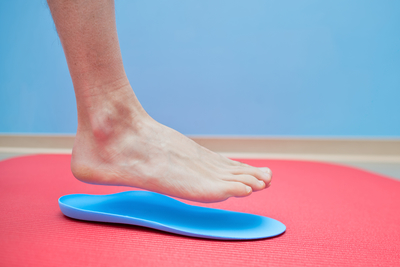 If your back hurts, then it's often time to take a look at your feet. Your feet don't have to be hurting to cause issues. Back pain is often a symptom of unbalanced feet. Your feet are your foundation. If you have a problem there, then you've most likely got pain elsewhere, too.
Foot Levelers has been making custom orthotics for 70 years. They're clinically proven to help balance the body by starting at your feet. This reduces pain and improves overall wellness, which is why we've integrated Foot Levelers as a core part of Integrity Chiropractic in Beckley.
How Your Feet Affect Your Whole Body
Your feet provide support, balance and posture. When they're structurally imbalanced, you can develop health issues like:
Achilles tendinitis

Back pain

Joint pain

Overpronation

Plantar fasciitis

Plastic deformation

Sciatica
Foot Levelers are the only custom orthotics that support all three foot arches. Your arches give the foot strength to support the body in a balanced fashion. When your feet are balanced, this helps balance out your knees, hips, spine, and more. A balanced body is less likely to develop pain and related health issues. We perform a foot scan to identify your feet's imbalances, and then orthotics are made based on your scan.
To many people's surprise, your feet also affect organ health. Your feet constantly send messages to your brain via touch receptors and sensory nerves. If there's an issue with your feet, they tell your brain that there's a problem. Your brain will then start sending information to make adjustments throughout your body, including your organs. Your body wants to be in balance.
Get Life-Changing Custom Orthotics at Integrity Chiropractic
Dr. Sexton's favorite thing about being a chiropractor is the ability to change lives without the use of drugs or surgery. He has a special interest in sports medicine and is well versed in treating pregnant women and babies. Dr. Short chose chiropractic medicine as a career because of his love for people and his strong belief in chiropractic care and the human body's ability to heal itself.
We use a well-rounded approach in the practice with a goal of achieving a higher quality of life for all of our patients. Check out Kelly Andrews' amazing success story. After several failed back surgeries, years of living with pain, and dissatisfaction with taking painkillers, she finally found pain relief through Foot Levelers custom orthotics.
Have questions or need to schedule an appointment? Give us a call at (304) 252-3333 or go online and fill out our contact form. We look forward to helping you.

Posted In: Chiropractic Low Back Pain Treatment Posture Adjustment Orthotics Foot Pain