How to Prevent Neck Pain While Sitting at Your Desk
How to Prevent Neck Pain While Sitting at Your Desk
Written By Integrity Chiropractic Inc on August 28, 2020
---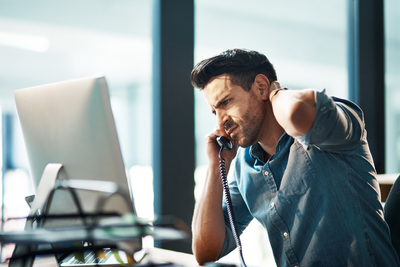 Does your neck feel achy, stiff, or sore by the end of an eight-hour workday? Sedentary desk jobs have increased 83% since 1950, and the average office worker may spend up to 15 hours per day sitting. Working and sitting at a desk all day is a common cause of neck pain and can have adverse effects on your joints and muscles, along with your overall energy and mood.
Before you seek professional chiropractic neck pain treatment, consider taking a proactive approach towards alleviating neck pain and stiffness.
3 Best Practices to Prevent Neck Pain at Work
Here are three easy ways you can help relieve your neck pain while sitting at your desk:
Work on Your Posture with Ergonomics
It's easy to slouch over your keyboard after a long day. However, make a conscious effort to improve your posture by placing your feet flat on the floor and your back against the chair. Your head should remain in a neutral position above your shoulders. To help maintain good posture, adjust your chair's height, keyboard and mouse placement, and armrests, so your neck weight is properly distributed.
Get up and Stand More
While sitting in a chair becomes routine, it's crucial to spend at least one hour on your feet while at your desk to help you maintain posture. Many offices are beginning to offer standing desks, but you can also utilize a desktop converter. Walking around the office also helps relieve neck strain if you start to feel achy.
Reduce Screen Time
When you're constantly looking down to look at your phone or tablet, you put unnecessary strain on your neck. If you maintain the position for extended amounts of time, you can cause muscle strains that result in long-term joint injuries. Use your desktop to check emails or use a docking station for your additional devices.
Neck Pain Treatment Options in Beckley
If you're experiencing prolonged neck pain in the office, it's time to schedule an appointment with Integrity Chiropractic Inc in Beckley. Dr. Rocky Sexton, D.C. and Dr. Franklin Short III, D.C., provide non-invasive and natural neck pain treatment for those looking for relief while at work.
Ready to stop feeling achy after eight-hour workdays? Schedule an appointment with Integrity Chiropractic Inc today.

Posted In: Chiropractic Neck Pain Treatment Posture Adjustment Workplace Ergonomics