Find Pain Relief with Orthotics from Your Chiropractor
Find Pain Relief with Orthotics from Your Chiropractor
Written By Integrity Chiropractic Inc on April 24, 2020
---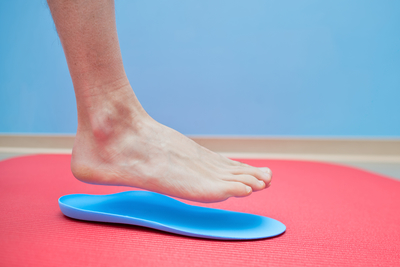 Foot pain can be extremely debilitating. From the occasional stubbed toe to more chronic conditions such as plantar fasciitis – the pain felt can quite literally knock you off your feet, leaving you down and out and canceling plans. However, there are alternative treatment options for those who are looking to avoid the use of pain medications and/or surgery, and that is custom orthotics.
Custom Orthotics Can Help Relieve Your Foot Pain
Orthotics are a type of insert that is prescribed by a medical professional to help correct various foot issues. These inserts go into your shoes to help correct a variety of different biomechanical problems including:
How you walk
How you stand
Plantar fasciitis
Bursitis
Arthritis and more
There are many options currently on the market for those who need inserts in their footwear. However, there is a difference between over the counter inserts and orthotic inserts.
Orthotics: Prescribed inserts recommended by a medical professional or Doctor of Chiropractic that take into consideration each patient's specific needs.
Over the counter inserts: Generic inserts that can be picked up in stores that can help treat various conditions. However, they do not have the security and guarantee of pain relief for all since they are constructed with general conditions in mind.
Foot Levelers Offer Patients Custom Orthotics
Here at Integrity Chiropractic Inc, we are happy to work alongside a brand that has been providing patients with custom orthotics for nearly 70 years. Foot Levelers has been making custom orthotics for patients that are clinically proven to not only help reduce overall pain but also clinically proven to "balance the body from the ground up."
Our team will help create a custom orthotic that suits your specific needs by performing either a foot scan or taking impressions to see where your foot imbalances are. From there, Foot Levelers will design an orthotic that fits your foot and shoe.
Custom Orthotics from Foot Levelers in Beckley, West Virginia
Having custom orthotics made doesn't have to be a hassle. Thanks to our partnership with Foot Levelers, our patients receive only the best in custom orthotics, ensuring that you find the relief you need.
Curious how a pair of custom orthotics from Foot Levelers could benefit you? Consider scheduling a consultation online or calling our office at (304) 252-3333 to talk with our team of professionals and discuss your options.

Posted In: Chiropractic Orthotics Foot Pain